Youth@Work – Supporting Best Practice in Developing Youth Employability
Entering the job market can be a daunting experience for young people, and they can often encounter a number of barriers and complications along the way.
With a highly competitive market, the activities of the Youth@Work cross-sectoral partnership, focused on supporting youth employability and entrepreneurship, is arguably now more important than ever.
What is Youth@Work?
The Youth@Work partnership brings together government, youth and employment actors from across Europe to explore and develop common strategies to prepare for the future world of work. These range from support for educators and young people in adapting to the rapid advancement of technology in the labour market; approaches to emerging career fields such as the green economy; and opportunities for non-formal and formal education systems to help young adults gain better employability and entrepreneurial skills, especially those from disadvantaged backgrounds.
The partnership organises a variety of knowledge-sharing, capacity-building, and networking activities each year, creating new initiatives, as well as building on existing actions. Importantly, it establishes a stronger voice at a European level to represent the contribution of youth work to youth employability and entrepreneurship ecosystems.
Structured as a collaboration of National Agencies, National Consultative Groups and a pool of expert international trainers that support the partnership at a transnational level, the network has been co-created to maximise cooperation and synergies between local, regional, national and European levels.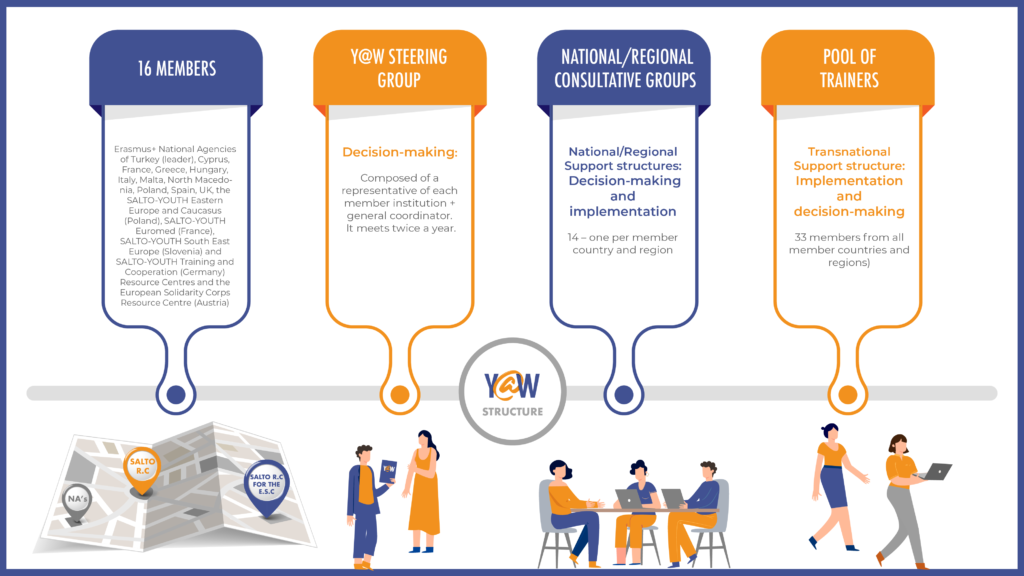 Another purpose at the core of the project is to enhance understanding and promote the use of EntreComp, DigComp and other European competence frameworks to be developed by the European Commission, as well as of Youthpass.
Watch this video from the 2019 Contact Making Seminar to find out more about the partnership's aims.
Introducing the UK National Consultative Group
The UK partners of the project are on the frontline of youth employment policy.
The group consists of a number of government and statutory bodies, as well as non-governmental organisations such as the School for Social Entrepreneurs and the Scottish Institute for Enterprise. According to Fiona Godsman from The Scottish Institute for Enterprise, the group "has been working with universities and colleges across Scotland for over 10 years, encouraging and supporting student entrepreneurship and supporting institutions with the embedding of enterprise and innovation skills in the curriculum."
Also prominent among the group's participants is The Women's Organisation, a social enterprise committed to providing women's economic development through learning and engagement activities. According to Lisa McMullan, the group's director for development, The Women's Organisation joined the group to support their pledge "to reach out to all women, to enhance their role in their own lives, in their community, in business and in the wider world and seeks to achieve this by delivering knowledge, changing perceptions and influencing policy." Since it was established in 1996, The Women's Organisation has supported over 55,000 women with information, advice and training, helping to create over 4,000 small businesses.
Also helping to foster the entrepreneurial spirit is representation from SFEDI Group; the UK's only specialised awarding organisation developing and delivering enterprise and enterprise support qualifications.
While entrepreneurial skills and starting a business is one method for achieving economic activity, it's not the only way. Consultative Group members, Momentum World CIC and the Humber Learning Consortium, bring their experience of helping young people in to paid employment. Vicky Holbeck from Humber Learning Consortium explained, "We are a partnership hub organisation, working with a wide variety of NGOs and social partners to support young people into employment." By being involved in the UK National Consultative Group they can contribute expertise on "in-work support models and supporting young people with disabilities and health conditions into employment and enterprise."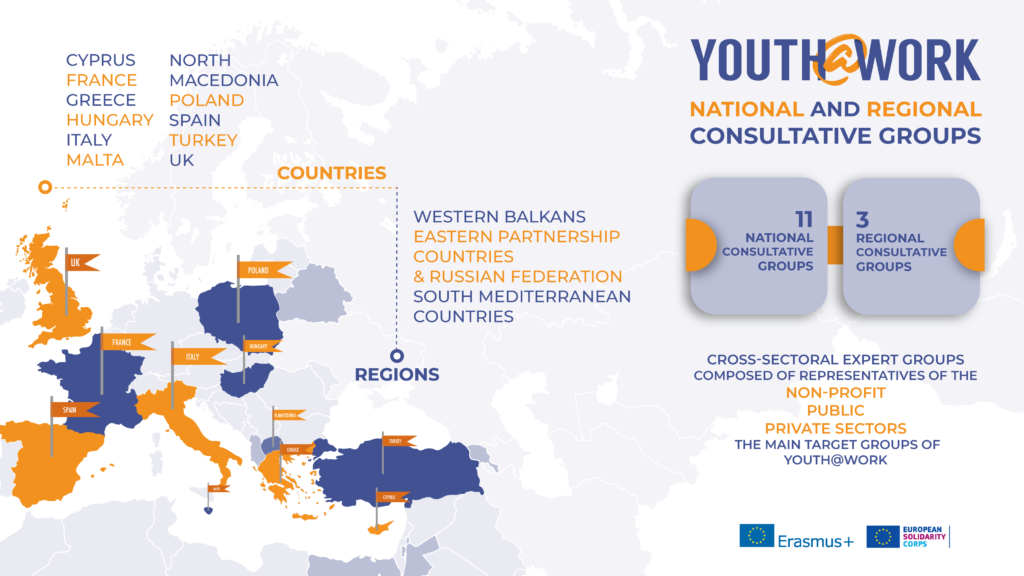 Representing the vocational education sector and the Welsh network of Enterprise Champions is Lesley Cottrell of Coleg y Cymoedd. "Qualifications are important, without a doubt, but a lot of young people believe that is what defines them. Wales has gone a long way to embedding the development of entrepreneurial skills and mindsets, however a lot more work needs to be done to ensure our young people are developing and can articulate their entrepreneurial competences," said Lesley. "We have achieved many positive outcomes however it is a continually moving beast and we have to keep developing our understanding and practices to keep up. Although we have 'expertise' we don't consider ourselves experts as there is always something to learn from every opportunity."
Government representatives and national agencies are also active in the Group, with representation from Carys Roberts of the Welsh Government and their Big Ideas Wales Campaign, as well as Gillian Lithgow from Youth Link Scotland, the national agency for youth work who represent more than one hundred youth organisation members across Scotland. Gillian commented that "YouthLink Scotland champions the value of the youth work sector, challenging government at national and local levels to invest."
The UK National Consultative Group has continued to meet virtually during the current lockdown, with the lessons learnt, approaches and ideas for the future provoked by the exceptional global situation emphasising the value of the continued national and transnational collaboration.
The Youth@Work international partnership continues to plan events and activities, with forums on social innovation for the social economy and building ecoliteracy to prepare young people for the green labour market planned for Autumn 2020.
For further information, please visit the youth@work website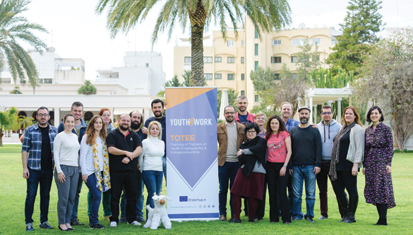 2 July 2020
5 minute read