Ecorys UK helps the homeless with £11,500 donation to Charity of the Year: Crisis
Ecorys UK helps the homeless with £11,500 donation to Charity of the Year: Crisis
Ecorys UK presented a cheque for £11,500 to their Charity of the Year, chosen by colleagues, Crisis, at their London office.
Crisis, the national charity for homelessness, delivered a short presentation and highlighted a few ways in which the donation could help those in need, including:
108 sessions of counselling with a mental health professional
228 CV-writing and interview skills one-day workshops
2,400 sessions with a Crisis advisor at Christmas to introduce a homeless person to Crisis' services
204 places for guests at Crisis at Christmas
240 hours of pre-tenancy training for five homeless people
The donation was made up of 1% annual profits (£9,500), staff donations and fundraising (£2,000) through activities including Grand National Sweepstake; World Cup Sweepstake; Book sale; Bake sale; Midwinter Lido swim; Quiz Night; Fancy Dress; 10k Run; Xmas Jumper Day; and Bid Writing.
Darren Jackson, Managing Director (UK), said "This is a fantastic sum and is down to everyone's commitment and hard work during 2018. Thanks and well done to the many people who organised, took part in, and/or donated money to the numerous fundraising initiatives carried out through the year."
Ella Dinsdale, Crisis, said "'Crisis is delighted to have Ecorys' support for the second year running. Their commitment to ending homelessness is evident not only in the generous donation of £9,500, but also in their incredible employee fundraising total of over £2,000 for the year. Thank you to every single person at Ecorys who helped achieve this: your time, passion and creativity is truly inspiring and we hope to work with Ecorys again in the future to end homelessness together."
As a result, over the last 5 years, Ecorys UK has contributed a total of £55,000 through their corporate donations (£45,000) and their wider fund raising (about £10,000). A list of their corporate donations is given below.
| | | |
| --- | --- | --- |
| Year | Charity | Amount |
| 2014 | Youth Cancer Trust | £8,600.00 |
| 2015 | Young Minds | £8,920.98 |
| 2016 | Women's Aid | £8,631.00 |
| 2017 | Contact the Elderly | £9,192.00 |
| 2018 | Crisis | £9,500.00 |
| Sub Total | | £44,843.98 |
In 2019, they will continue with their commitment but reflect on their increased international focus as they plan to donate 80% of the total donation to "Refugee Action" in the UK and 20% to "Care for Kids" in Zambia.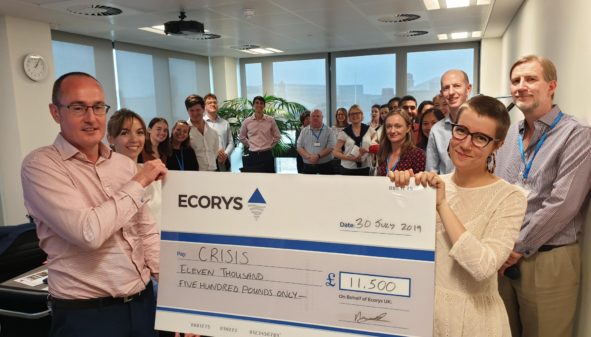 15 August 2019
3 minute read