Ecorys technical assistance to conservation in Africa features in 'Selected Studies in Biodiversity'
Ecorys technical assistance to conservation in Africa features in 'Selected Studies in Biodiversity'
Aspects of work by PMTC Zambia (a part of Ecorys), on providing technical assistance to the Kavango-Zambezi Transfrontier Conservation Area (KAZA TFCA) in Southern Africa, has recently been published in 'Selected Studies in Biodiversity'
The book features 18 peer reviewed chapters around biodiversity and is an ideal source of scientific information for advanced students, junior researchers, scientists and those interested in ecology, biodiversity and other research areas.
The chapter, titled 'Integration of Ecological and Socioeconomic Factors in Securing Wildlife Dispersal Corridors in the Kavango-Zambezi Transfrontier Conservation Area, Southern Africa', was authored by Ecorys Team Leader Dr Simon Munthali, with Ecorys colleagues amongst the co-authors. It focuses on work done in the KAZA TFCA to secure easier movement of wildlife between protected areas and across international boundaries.
What is the project about?
The KAZA TFCA comprises a landscape spread across five countries and encompassing some of Southern Africa's premier tourist destinations. It also has the largest contiguous population of the African elephant on the continent and iconic sites such as the Okavango Delta and Victoria Falls. An essential component of the project is to ensure that local communities have access to water and agricultural production and are able to benefit from the sustainable use and management of natural resources in the area.
The area spans approximately 520,000 km² and is the largest transfrontier conservation area in the world composed of National Parks, Forest Reserves, Conservancies, Sanctuaries, Wildlife Management Areas and Game Management Areas across Angola, Botswana, Namibia, Zambia and Zimbabwe. This gives a total of 371,394 km2 (almost the size of Japan) under some form of wildlife management, leaving 148,520 km2 (almost the size of Bangladesh) for agricultural use including rangeland.
PMTC Zambia provided technical services (2011-2017) to the KAZA Secretariat for the Botswana Ministry of Environment Wildlife and Tourism (MEWT), who are the supervising authority for implementation of the KAZA TFCA initiative on behalf of the Governments of Angola, Botswana, Namibia, Zambia and Zimbabwe. This technical assistance was supported by the Federal Government of Germany through KfW Development Bank, a major funder of the KAZA TFCA initiative.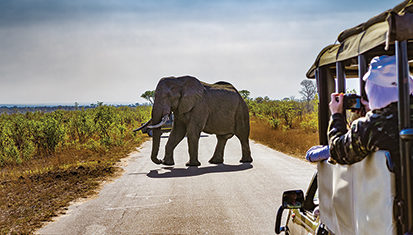 22 March 2019
2 minute read