Improving Work Opportunities – Relaying Knowledge (I-WORK)
Improving Work Opportunities – Relaying Knowledge (I-WORK)
---
The I-WORK (Improving Work Opportunities – Relaying Knowledge) programme was launched in 2018 and concluded in April 2020.
The programme was established with the objective to support skills strengthening systems and enhance Technical and Vocational Education and Training (TVET) in Commonwealth countries, with the overarching aim of improving job opportunities for young people. The programme was funded by the Foreign and Commonwealth Office as part of the Commonwealth 18-20 programme, and included Ghana, South Africa, India and Malaysia as target countries.
The programme was underpinned by a "cultural relations" approach, which aims to develop projects and interventions through convening and conversation, and root project design in evidence and local and international expertise in order to create contextually relevant initiatives which fully involve local partners and stakeholders.
By promoting good practice, partnership working and knowledge exchange between Commonwealth member states at a policy and delivery level, the programme aimed to drive improved opportunities for young people whilst raising the knowledge and understanding of the Commonwealth and strengthening relationships between Commonwealth countries and the UK.
The I-WORK programme uniquely combined support for multilateral partnerships as well as systems-strengthening for apprenticeships. The focus on involving high-level stakeholders and national governments was designed to shift public perceptions of vocational training as a viable, and even prestigious alternative to further academic study. The programme involved the development of an innovative "benchmarking tool" which the countries involved used to assess the state of play of their current apprenticeship system and identify areas for improvement.
While the British Council has traditionally engaged with other countries on a bilateral basis, the I-WORK programme piloted a multilateral approach which sought to engage with several countries at once. This innovative partnership approach to system strengthening in TVET is being piloted by the British Council as an approach that could be potentially be translated to other areas of programming.
Ecorys was commissioned by the British Council to assess the I-WORK programme to inform British Council's future strategy and programming and provide useful insights for others interested in furthering skills development and job opportunities for young people. The British Council was particularly keen for the evaluation to explore the relevance and effectiveness of the cultural relations approach and the benchmarking tool.
The evaluation was conducted between January and May 2020. Firstly, we conducted a document review of the different components of the programme as well as interviews with key British Council stakeholders. Fieldwork visits were made to Ghana, India, Malaysia and South Africa, including visits to training centres, interviews and focus groups with students, teachers and government officials. We triangulated our qualitative evidence with a quantitative analysis of feedback forms from National and International workshop attendees, as well as project completion reports which provided data on outcomes.
We found that the multilateral partnership approach to system-strengthening in TVET was very well-received and is something that could be applied to future programming, as well as the combination of support for policy dialogue and development alongside support for individual college-level sharing of knowledge. Due to the short timespan of the programme, it is viewed as a useful catalyst, with the potential to lead to long-term systemic change.
An emerging findings and validation workshop were held with British Council to co-produce a series of recommendations to inform future TVET programmes. These included the continuation and scaling up of a multi-lateral approach in future partnership programmes, a more tailored offer for participating colleges dependent on their experience, and a thorough initial briefing for all programme participants to ensure clear lines of communication.
Since the I-WORK programme concluded, the cultural relations approach to improve employment opportunities for young people has attracted wide attention across the British Council as well as a variety of external stakeholders from around the world who are interested in implementing a similar approach. A webinar on the cultural relations approach was held on 16th and 20th October with over 100 attendees on both days. Ecorys was invited to present their findings and recommendations from the evaluation as well as answer questions from participants.
In terms of next steps for the programme, the British Council has developed an online version of the benchmarking tool which is available to any interested party in both its full version and a shorter "taster" version. The British Council plans to use this tool in future TVET projects as well as encourage its uptake more widely.
"My experience of working with the team at Ecorys on this project was excellent throughout. The team were quick to understand and respond to the requirements of the evaluation and were professional and adaptable in their approach.
As well as being highly capable and knowledgeable, the Ecorys team were quick to respond to change and volatile external factors, most notably the Covid-19 outbreak which had a considerable impact on the approach and timelines. Despite the uncertainties, Ecorys were able to complete all actions as planned thanks to their agile nature and through utilising their global network of expertise. 
The conversational, collaborative and goal-focussed approach undertaken made working with Ecorys very easy and enjoyable and I would certainly work with them again in the future" 
–    Bill Burson, Senior Project Manager, I-WORK.
Team members: Korina Cox, Malika Shah, Kay Lau, Beatriz Amaral, Olivia Geymond, Kathryn Scurfield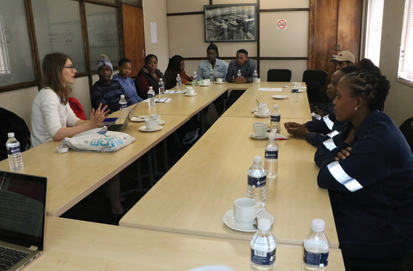 17 November 2020
4 minute read
Sectors
---
Key Experts
Korina Cox
Technical Director
Malika Shah
Research Manager
---